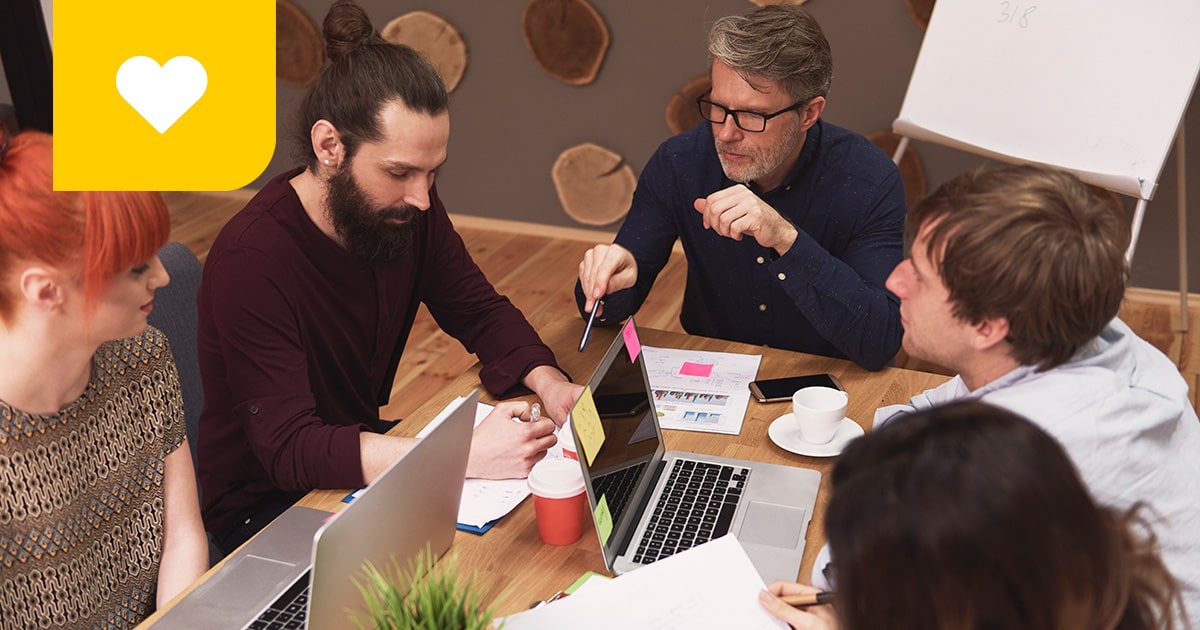 5 Ways Strata Councils Can Support Their Communities
Your actions as a Strata Council can go further than you think. As we collectively face the challenges of the COVID-19 pandemic, many residents of community living are adjusting to changes within their own buildings. For some, that means coping with amenities closing, passing by others in the hallways without approaching each other, or not being able to hold in-person meetings.
Because we have all been confined to our homes and immediate neighbourhoods, Strata Councils play a large role in supporting their residents' physical and mental well-being. In Provincial Health Officer, Dr. Bonnie Henry's words, we must "be kind, be calm, and be safe" around our neighbours given that we're now living together 24/7.
To help Council members with Strata Management during these difficult times, we have put together some tips and examples.
Five ways Strata Councils can support their communities during COVID-19
Over communicate

Support neighbourly behaviour

Go digital

Plan ahead

Review bylaws

Over-communicate
It is important that your community hears from you and understands how their strata community is being protected and managed during this time. Keep communication frequent, short and to the point. You want to make sure there is little opportunity for a resident to say "I didn't know about that."
Here are a few ways to reach your residents...even in quarantine:
Informative posters

– Help address concerns about physical distancing, additional assistance and hygiene recommendations that protect your community. The BC Ministry of Health made available on its website some posters for strata communities.

Signage

– At Tribe, we believe the key to Strata Management is communication. That is why we prepared ready-to-print signage on our website. Print them off and show your residents the practices set in place by Strata Councils to help foster a sense of unity and establish common ground. We can also help Councils order graphics for the front of elevators or circles on the floor in lobbies to help encourage physical distancing.
Concierge – If you have a concierge – use them! Ask them to remind residents of physical distancing practices and establish a process for both people and packages coming in and out of the building.
Online tools – Email or online property management tools are a great way to stay connected and keep people informed, especially during physical distancing. A weekly update to owners and residents can answer questions, bring a feeling of connection and provide a digital record to easily refer back to. See the "Go digital" section.
By trying some (or all) of these methods of communication, you can help ensure that residents feel informed and supported during this time.
Support neighbourly behaviour
With physical distancing in place, more people are at home working, studying and caring for children. Our buildings have become very busy places. It is important to remember that our neighbours are more than likely home too. Key challenges include noises from other suites and crowding in communal spaces such as hallways, elevators, and mailrooms.
While we know it can be hard to keep noise levels down – especially when following workout videos or catching up on your latest shows – please remember your neighbours.
Encourage residents to face speakers away from shared walls.
Remind residents to be mindful of their feet and to find other places to exercise if possible. Tip: Area rugs and wearing slippers serve as great sound barriers to prevent disruptive noises.
No yelling and running in the halls.
If you see someone in a tight space like the hall or mailroom, wait until they've passed by or finished what they are doing before you enter.
Remember that most buildings have 'quiet hours' that need to be respected.
If you have a noise concern and need support, submit a help desk ticket through your online platform [for Tribe clients] and your Manager will address it in a timely manner.

Go digital
Now more than ever, your community needs to be informed. With in-person contact being highly discouraged, now is the time to go digital.
Since the start of quarantine, security has been a top concern. Although the number of break-ins is starting to return to normal (as of May 2020), there has been a recent spike in early April. As such, we need to stay connected with our neighbours.
Create a group on a platform like WhatsApp, Facebook or others, and invite your neighbours. You can use this to stay informed, share resources and help each other. Zoom calls are also a great way to communicate about urgent issues.
We've seen incredible displays of generosity and community-building in our communities. People have come together using our Tribe Home Community Platform. Some of our residents have posted offers of food and toiletries, while others have asked for assistance with getting medicine while in quarantine. We support our communities by keeping everyone informed – providing important building notices, a secure place to store meeting minutes, and instructions on how to successfully run your next virtual Strata Council meeting.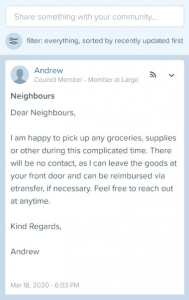 One of our council members offered to pick up groceries for his fellow neighbours on bazinga!

There are three primary Strata Management communication features in the bazinga! Community Platform:
The Loop
The Loop is a two-way community forum where residents & administrators such as Strata Council members, the property management team and other staff can post information, ask questions and comment. Here, Strata Councils can post common COVID-19 FAQs and address specific protocols for the building.

Learn how The Loop helps improve communication in our communities.

Help Desk
Using our app, residents can submit requests for help, report issues about your community and find commonly asked questions and answers. Strata Council members and other administrators can manage these requests in the form of tickets. This ensures that nothing gets lost and all concerns are communicated in a timely manner.
Messages
Need to send a private email? You can do this via Messages to all registered users of Tribe Home. To maintain residents' privacy, unit numbers have been hidden and full names are abbreviated.
We've loved the kind gestures we've seen on our platform, and we're committed to our mission of connecting communities through heartfelt service and innovative technology.
Plan ahead
Our world and how we operate it is changing faster than ever right now as we adhere and adjust to different levels of our current pandemic. It is important to look ahead and plan for situations that we may face with our "new norm".
Have you established a contingency plan in the event that your building staff can't come to work? What about if your concierge falls sick? With new circumstances, every day now is the best time to educate ourselves.
During this period, Strata Councils must be prepared to take the lead. To guide you through the process, here are a few things to consider doing:
Know the ins and outs of your building. Learn how the elevator functions, where the fire panels are, and how the water shutoffs operate. This will allow you to act quickly in the case of an emergency.
Familiarize yourself with your insurance policies. Contact your personal insurance broker to discuss any changes that may impact your property and understand the coverage you have.
Brainstorm with your fellow Strata Council members. Designate people on your council to take on specific roles and ensure that all resources are available if needed. Document this process and come up with multiple solutions to every problem.
Stay up to date. Be prepared to adjust your plan and communicate these changes to your residents. By following community management best practices you can help minimize the disruptions of COVID-19 in your community.
Review bylaws
There's no question that spending more time at home will require Strata Councils to be more vigilant in enforcing the rules. Please do your best to work with your fellow Strata Council members and residents to keep the following in mind:
More time at home = more waste! Here are a few tips to help your residents manage their disposal:

Pre-sort waste to minimize time spent in public areas.

Minimize trips to the disposal room by flattening boxes and using a small kitchen compost bin.

Double-bag waste and tie bags securely.

Special general meetings post-pandemic. Continue to follow regular meeting procedures and educate others on how to join virtually. Begin exploring your options so you have a plan in place.
Smoking bylaws. Identify your community's policies and remind residents to be extra mindful during these times. Although some strata corporations have their own bylaws, some decide to follow the Strata Bylaws outlined in the Strata Property Act.
By reminding your residents of the regulations established within your building, you can effectively manage your strata during this time.
Conclusion
This can be a scary time for us, but it doesn't have to be. We're all in it together.
Take some time to consider the needs of your residents and begin planning with your Strata Council members. Find a platform that not only allows for fluid communication but also helps keep your community protected. Safety is the most important thing during this time.
At Tribe, we're on a mission to build happier and healthier communities through connection and education and to help Strata Councils succeed.