How Tribe is Different from other Property Management Companies
Just like buying slim-fit jeans online, selecting a one-size-fits-all solution for your Property Management needs doesn't always work out. At Tribe Management, we understand your Community is unique, and unlike a pair of jeans, deciding on who you will work with to manage your building can have a lasting impact on your collective investment.
Where it all began
Our story starts in Alexandria, Egypt, where our CEO Joseph Nakhla grew up in a six-unit, low-rise apartment building that spawned his passion for developing a sense of community within residential living. It's from this passion and history that we get our name – Tribe. But there is more to the tale to explore in Behind the Name.
Tribe /trīb/

noun / definition: A diverse community of people with shared interests, lifestyles and habits; a distinctive or close-knit bunch; a group of friends that becomes your family.
Mutual appreciation
Before signing any paperwork, we like to get to know our potential clients. We believe that working with Condos and Stratas that share our values and expectations leads to a mutually beneficial relationship. One that aims to achieve the same goals.
We recognize that our approach may not be what your Council or Condo Board is used to, so we take time to get to know you to ensure that we are comfortable before we begin.
A focus on Community
We operate a little differently from other Property Management companies in more than just our name and deciding who to work with.
Starting with our decision to refer to our strata or property managers as Community Managers, we think this title better reflects our view on the important role they play in creating a healthy living environment of many different people. More than just managing a building or property, they build and care for a community.
As you would expect, our Community Managers handle the usual details like building and property maintenance, building management, administration, and financial tasks, as well as mediate disputes and amend bylaws where necessary. But they also do so much more!
For a refresher on what Property Management is and what Property Managers, or in the case of Tribe, Community Managers handle, visit Property Management – What Is It.
What's missing from your Property Management company?
There are standard responsibilities that all Property Management companies should handle. But not all Property Management companies are created equal. The three most common concerns we hear from Strata Councils and Condo Boards seeking new management are:
Lack of

communication.

Visibility

of what's being done.
Tribe Management takes a people-forward approach to understand your challenges and addressing them with customized solutions. Let's explore these common complaints!
Communication – The Secret to Success
If you have the time to read every business or self-help book and you will discover that communication is the key to every lasting relationship. Or you could just take our word for it.
But not all property management companies put two-way communication at the centre of what they do. With Tribe Management, you will feel connected and informed through Council surveys, one-on-one phone calls, updates directly from our Managing Broker, posts on our Tribe Home platform, and more.
Technology is changing the way Property Managers communicate with residents. Read about 5 Ways Technology is Uplifting Condo Communities.
Visibility – What's happening and when
We demonstrate transparency in our management of a Community by ensuring frequent communication and easy access to information about your property. Our easy-to-use Community platform called Tribe Home provides you with visibility to your current balance, important building, unit documents, and more, plus the ability to submit trackable Help Desk tickets.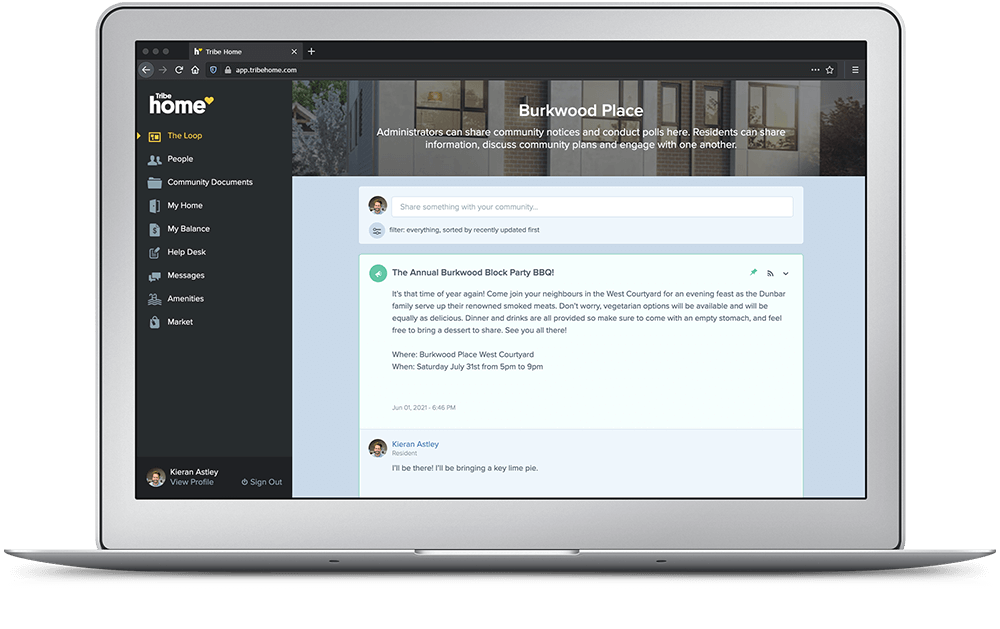 Accessibility – Find what you need when you need it
We offer you the convenience of having all your building's information at your fingertips through our Community platform, Tribe Home. Tribe Home is easy to set up and easy to use. Receive real-time information about your building. Know before you park if the garage door is out of commission or before you leave your home if the elevator is down. Get alerts when maintenance is on its way and when repairs are complete.
Behind the scenes
The service you expect from your Property Management company stems from a complex network of operations on the back end. Tribe Management's people-forward approach extends beyond our clients to include the treatment of our employees as well. We communicate with our teams regularly to address issues and concerns, provide training where necessary, recognize hard work, and maintain a positive, diverse work environment.
Sounds like a perfect match
Nothing beats finding those jeans that fit just right! Except for maybe a Property Management company that listens and understands your needs.
Is your Council or Condo Board looking for greater communication, transparency, and accessibility from your property management company? Or maybe it's something else altogether? We'd love to hear what makes your community unique and work with you to optimize a service agreement that ensures your needs are met.
What does it mean to have Tribe Management as my Property Manager?
At Tribe, we strive to build relationships with Strata Council and Condo Board Members and Owners through strong communication and transparency in everything we do. It takes a team of highly skilled individuals to provide each of our communities with what we refer to as a boutique approach – or service that understands your unique community needs.
Our service includes:
Clear and purposeful communication

Custom-built technology that supports access, connection and visibility

A focus on our people

Knowledgeable advice

A community-focus



For these reasons,
Tribe Management has a minimum fee of $2,000 in the Lower Mainland and $1,800 for the Okanagan for full-service management.
In Alberta and Ontario, our minimum is $1,500 for full-service management.
We care for our Communities, and we want to make sure this is the right fit for both parties. During the initial exploration phase, our Managing Brokers and Directors meet with Council or Board members and take the time to ask the right (and sometimes tough) questions. We won't ever take on a Community that we know we won't be able to support to the best of our abilities.
Get In Touch